---
Rays Win Championship 4-2 over Tigers
10-05-2018
Congratulations to the Rays. Scoring 3 runs in the bottom of the 8th to win the Centre Sluggers Championship 4-2 over the Tigers.
---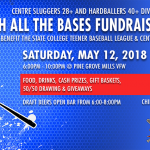 Touch All the Bases Fundraising Event
04-26-2018
Touch All of the Bases  Event Date:  Saturday, May12, 2018 Time: 6:00PM - 10:00PM Pine Grove Mills VFW Food would be served at 6:30PM Buffet Style Draft Beer Open Bar from 6:00PM - 8:00PM Corn hole and other games on the front lawn - weather permitting Music DJ and MC throughout the evening Games of Chance throughout the evening Gift Baskets & 50/50 Door Prizes & Give-aways Grand Prize Drawing TICKET PRICES .00  - Adult Ticket .00 - Teens (ages 13-20) FRE
---
Pirates Win the 2017 Centre Sluggers League Championship
09-25-2017
Congratulations to the Pirates, they are the 2017 Centre Sluggers Team Champions! In a thrilling game that went back in forth throughout the evening, the Pirates defeated the Rays 11 - 9 at Medler Field.  Each team had several opportunities throughout the evening, but in the end, the Pirates pitching prevailed.  We could not have asked for a better championship game. Congratulations to John Gummo and the Rays for a fantastic season. They finished the regular season as the #1 seed heading i
---
Centre Sluggers - Texas Roadhouse Fundraising Event
08-09-2017
Have lunch or dinner at the Texas Roadhouse and support the Centre Sluggers and Hard Ballers Baseball Leagues. Print out the flyer and bring it with you to the restaurant. 10% of your bill will be donated to our League.
---
Centre Sluggers League Featured in the CDT
05-31-2017
STATE COLLEGE Every Sunday from Memorial Day weekend to Labor Day weekend, adult baseball players have a chance to hit the field in State College and continue playing the game they love, or dust off the cleats and take another swing at a fastball. The Centre Sluggers 28-years-and-over baseball league was founded in 2001. The league began with four teams, named after Major League Baseball teams, and about 60 players. As the 2017 season gets underway, the league will field eight teams a
---
Baseball is the only field of endeavor where a man can succeed three times out of ten and be considered a good performer.
Ted Williams