---
Centre Sluggers League Featured in the CDT
05-31-2017
STATE COLLEGE Every Sunday from Memorial Day weekend to Labor Day weekend, adult baseball players have a chance to hit the field in State College and continue playing the game they love, or dust off the cleats and take another swing at a fastball. The Centre Sluggers 28-years-and-over baseball league was founded in 2001. The league began with four teams, named after Major League Baseball teams, and about 60 players. As the 2017 season gets underway, the league will field eight teams a
---
2017 Waiver Form - Available Online
05-16-2017
To access the 2017 Waiver Form, please go to the following link: https://centresluggers.com/wp-content/uploads/2017/05/Waiver-Release-2017.pdf
---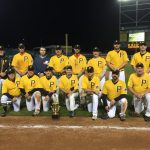 Pirates Win Championship! Pirates 16 - Rays 12
10-05-2016
On a cool October evening at Medler Field, A hard fought game by both squads led to a come from behind victory for the Pirates. Taking the 2016 Centre Sluggers Championship with a 16-12 win over the Rays.   It was a fantastic way to end a great season!
---
2016 Season to begin on May 22, 2016
05-04-2016
The Centre Sluggers will officially start the 2016 Season on May 22nd. Please check out the complete schedule of upcoming games for the league, or visit the team page for a specific team schedule.
---
Championship Game - Tigers vs Pirates
09-23-2015
The 2015 Centre Sluggers Championship game was played this Sunday, September 27, 2015 at 3:00PM at Medler Field. CONGRATULATIONS TO THE TIGERS - WINNERS OF THE 2015 SEASON!
---
Baseball is the only field of endeavor where a man can succeed three times out of ten and be considered a good performer.
Ted Williams