---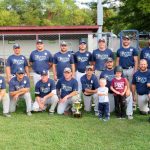 Back to Back Champions - Rays Win 2019 Centre Sluggers Title
10-31-2019
Congratulations to the Rays and the Back to Back
---
Quarterfinal Results / Semi-Finals Schedule
09-08-2019
September 8, 2019 - Quarterfinals [1 game playoff] 1:00PM  D-backs (5) vs Orioles (4) - Airport. [ Orioles won 7 - 1 over the D-Backs ] 4:00PM  Yankees (6) vs Rays (3) - Airport. [ Rays won 7-6 over the Yankees ] September 15, 2019 - Semi-Finals [1 game playoff] 2:00PM  Orioles (4)  vs Tigers (1) - Airport 5:00PM  Rays (3)  vs Pirates (2) - Airport September 15, 2019 - Consolation Game 1:00PM Dodgers vs D-Backs - Spectrum - Consolation
---
Playoff Brackets / Quarter Final Schedule
09-03-2019
Playoff Play-in Game:  Yankees vs Dodgers On August 25th the Yankees defeated the Dodgers 4 - 0 in the Playoff Play-in Game. Thus they became the 6th seed for the playoffs. Playoff Seeds: Tigers Pirates Rays Orioles D-Backs Yankees September 8, 2019 - Quarterfinals [1 game playoff]   1:00PM  D-backs (5) vs Orioles (4) - Airport 4:00PM  Yankees (6) vs Rays (3) - Airport September 15, 2019 - Semi-Finals [1 game playoff]   2:00PM  Lowest Seed vs Tigers (1) -
---
Regular Season Ending Results
08-25-2019
Congratulations to all of the teams for an exciting 2019 Regular season. The final standings and points standings do not truly reflect the good games that were played throughout the season! The season ending final Points standings [Used for playoff seedings] are as follows. Please note for this year "Runs Scored" was used as the determining factor in the event of a tie. We have a Rule #5 in the rules, however this was not updated when we instituted the "Points System" a few years back.
---
Rays Win Championship 4-2 over Tigers
10-05-2018
Congratulations to the Rays. Scoring 3 runs in the bottom of the 8th to win the Centre Sluggers Championship 4-2 over the
---
Baseball is the only field of endeavor where a man can succeed three times out of ten and be considered a good performer.